SlipIns
DiveSkins/SurfSkins - Aqua Mermaid - Zippered
SlipIns Aqua Mermaid DiveSkins are the world's finest sun protective swimwear with 60+ UPF and are made in America. This mermaid like dive suit is the closest thing to being a mermaid that a human can get. This skin is a tight fitting, full body lycra suit designed to make it much easier to slip in and out of a wetsuit-wet or dry. This UV sun protection is second to none. SlipIns DiveSkins have foot stirrups, thumb holes, and front zippers that make it easy to wear. This one piece body suit protects against Fire Coral and all other possible abrasions.  Our DiveSkins protect against all stinging ocean critters as well. SlipIns DiveSkins have lots of stretch for comfort and they dry quickly.  DiveSkins are perfect for scuba diving, snorkeling, surfing, paddling, free diving, boating, or just enjoying your time in the water. This SlipIns DiveSkin is for all those young at heart wanna-be mermaids.  And don't forget the matching Headband and DiveSoxx!!
Customer Reviews
MERMAID SKIN!
Fits like a glove- this is my 3rd Slipin Skin- I love them all and I look forward to wearing them each time because they function well and they look amazing!
06/22/2020
Auriol H.
United Kingdom
So Pleased!
I am absolutely gobsmacked at how quickly this arrived. I am from the UK and it arrived within the week. Obviously being in the UK I was worried about getting the wrong size and having to faff around with returning it back to the States, however the size guide is 100% right and the size I ordered fits like a glove. It's so flattering and the colours a really vibrant too. I am so happy with my purchase and I will definitely be buying more in the future. But for now I am one very happy mermaid!! Thank you Robin. xx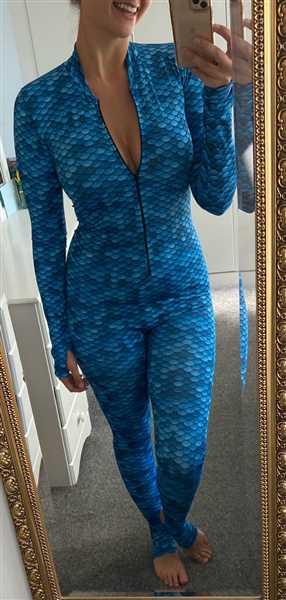 06/21/2020
Jaquelin P.
United States
01/15/2020
Susan T.
United States
Love the skin
Love it; looks great; gets compliments; works well where I am diving now: Bonaire under a new wet suit.
01/03/2020
Stephanie G.
United States
11/08/2019
Donna P.
United States
Dive skin
Yes I love the way it fits. Haven't had time to use it because of work right now, looking forward to getting back in the water and use it.
07/15/2019
Rebekah H.
United States
Love love love this design
I wore this rashguard for a week trip recently and it was perfect. The fit is great, TONS of comments / compliments, and I love everything about it.
Very nice
My wife liked the Slipin a lot. Her only issue is that she is tall and her 34 inch inseam didn't allow her to keep the stirrups on. Very nice product and the folks there are great to deal with.