Slipins
DiveSkins/SurfSkins - Whale Shark - Zippered
Show off your adventurous spirit and revel in distinctive style! Our Whale Shark DiveSkin exudes confidence and strength using the extraordinary pattern of earth's largest fish (up to 46 feet and 12 tons!). 
This tight-fitting, full-body lycra dive suit offers 4-way stretch for maximum comfort. You'll own the ocean in this stretchy, breathable, fast-drying fabric with full body sun protection. Easily slip in (and out) of your wetsuit, wet or dry. Or wear on its own! 
DiveSkins are perfect for scuba diving, snorkeling, surfing, paddling, free diving, boating, or just looking beautiful in the water. 
Ultimate 50+ UPF sun protection
Blocks 98% of UVA and UVB rays
Long sleeves with thumb holes to protect arms and top of hands
No need to apply and reapply sunscreen
Quick dry, breathable lycra fabric
Excellent 4-way stretch for flattering fit
Uniquely created ocean-inspired patterns
Not see through, wet or dry
Foot stirrups, thumb holes, and front zippers for ease of wear
Protection against fire coral and other abrasive surfaces
Protection from stinging ocean critters
All SlipIns are made in the USA in Southern California
Washing tip: Machine wash, tumble dry 
Shopping tip: Accessorize your Whale Shark pattern DiveSkin with matching Headband, DiveSoxx and Dive Buff!
View our sizing guide
The Whale Shark is part of our threatened & endangered ocean series.
Fast Facts - Whale Shark - (Rhincodon typus)
1. The largest fish on earth
2. Not related to whales
3. Extremely docile creature
4. Up to 46 feet long & 12 tons 
Customer Reviews
I recommend this product
Excellent purchase
I knew Slipins.com on Instagram. I'm a scuba diver, I follow a lot of scuba diving/free diving profiles. I don't remember the exact profile, but when I saw Slipins' whale shark wetsuit, I immediately fell in love with it and so I decided to give a better look on the website. I found a lot of wonderful wetsuits! But the first love is never forgotten, so I decided to buy whale shark wetsuit. I wore it for the first time just two weeks ago when I was in Maldives: I was very proud to wear it and to show it, every diver remained impressed by the extraordinary design of the wetsuit. Trust me, it's a jewel to wear! I think I'm going to buy other wetsuit with different fantasy because they are fantastic!!!
I recommend this product
Amazing Customer Service
You have been an absolute pleasure to deal with! Amazing Customer Service! I have told my whole diving community about you! I cannot wait for my skin to arrive!
12/08/2020
Kelly
United States
I recommend this product
Love my Slipins!
So comfortable, and makes it amazingly easy to get in and out of my wetsuit! It's a little snug to put on the first time or two, but stretches to perfect fit in no time. I just ordered another one!
11/16/2020
Jenna P.
United States
I recommend this product
Beautiful!
Love it! Not only is the suit a thing of beauty, but it's practical too! Makes getting into my wetsuit easier.
10/08/2020
Tara K.
United States
I recommend this product
Amazing comfort and so beautiful
I'm a bigger gal and was self-conscious at first, but I got SO many compliments on my whale shark slip-ins during my dive trip in Key Largo. I even saw another gal on my last day who had the sea turtle one on my dive boat! For as comfortable as it is OUT of the water, is is like diving **** IN the water. I will definitely be buying more - as I am on a weight loss journey. Thank you for such a comfortable and beautiful product!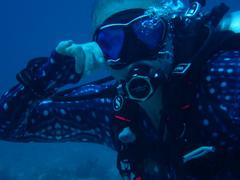 09/16/2020
Racquel F.
Italy
I recommend this product
So comfortable, stylish and versatile
I got my whaleshark over a year ago and I take it everywhere with me. It fits like a glove and I love the protection it gives me from the sun. Plus I get lots of compliments on its unique style. I wear it in fresh and saltwater. Plus I use it for lots of activities on land. It's great for hiking and cycling. Can't reccomend it more!
09/06/2020
Christopher D.
United States
I recommend this product
They're great
GF loves her new skin
09/03/2020
Allison .
United States
I recommend this product
Perfect skin!
Wore this for the first time on a chill early morning dive day! Wet suit was still wet from the night before so this was perfect at giving me an extra layer of warmth. Highly recommend! True to sizing and great construction! I always had my eye on Slipins and none of the other skins I saw came close to this level of quality. I couldn't pass on the patterns!
08/12/2020
Rhu
Cyprus
I recommend this product
Another reason to wear diveskins
Amazing and yes all the positive things said about diveskins are absolutely true .Impeccable quality , fit and comfort .I d just like to point out another reason to wear them-I am over 60 now and even though I am still slim my flesh and skin don t sit the way they used to when I was younger so I was searching for something fun,modern and practical to cover it all up but still look good.I found it in diveskins! Big or small these just automatically make you look better!
08/03/2020
Anita
United States
I recommend this product
Fits like a glove
Customer service and shipping was awesome! I ordered the whale shark design with matching socks and buff. Quality is really good and very easy to put on. I'm 5'5" 135lbs with a long torso and the medium fits perfect. Excited to wear this for my upcoming trip to Aruba!!!