SlipIns
DiveSkins/SurfSkins - Red Spotted Grouper - Zippered
Earn covetous stares from admiring fans in your SlipIns Red Spotted Grouper DiveSkin! Our DiveSkin is a sun protective, tight-fitting, full-body lycra dive suit with 4-way stretch designed to help you slip in (and out) of your wetsuit, wet or dry. The hypnotizing red spotted grouper pattern charges you with energy for a full day in the water. Be prepared for admiring questions asking where you got such an exotic design! 
DiveSkins provide full body sun protection and are perfect for scuba diving, snorkeling, surfing, paddling, free diving, boating, or just looking beautiful in the water. 
Ultimate 50+ UPF sun protection
Blocks 98% of UVA and UVB rays
Long sleeves with thumb holes to protect arms and top of hands
No need to apply and reapply sunscreen
Quick dry, breathable lycra fabric
Excellent 4-way stretch for flattering fit
Uniquely created ocean-inspired patterns
Not see through, wet or dry
Foot stirrups, thumb holes, and front zippers for ease of wear
Protection against fire coral and other abrasive surfaces
Protection from stinging ocean critters
All SlipIns are made in the USA in Southern California
Washing tip: Machine wash, tumble dry
View our sizing guide
The red spotted grouper backstory:
In the Summer of 2019, the SlipIns Crew were on a live-a-board in the Maldives. Fresh fish were caught daily to feed everyone onboard fantastic feasts. One day, the catch included a gorgeous Red Spotted Grouper. We photographed its beautiful pattern, and a year later, we presented one of newest SlipIns patterns!

Customer Reviews
12/06/2020
Caroline
United Kingdom
I recommend this product
LOVE my SlipIns
I have 4 of SlipIns beautiful diveskins now and each one is truly amazing. They feel and fit like a second skin. Love the complete head to toe look these suits give, they are the most amazing pieces to wear. I wear mine for yoga and they make me feel like a performer from Cirque du Soleil. This Red Spotted Grouper design is so fun and gives the most amazing pop of colour.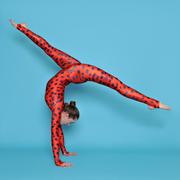 09/29/2020
Pete
United States
I recommend this product
Practical and beautiful
Be prepared, because you will be noticed in this! It's great for protection against the sun without having to keep worrying about sunscreen
08/16/2020
Krista
United States
I recommend this product
Gorgeous, vibrant, sun protective suit!
This suit is my new favorite from SlipIns! It's a gorgeous, vibrant red and looks amazing above and under the water! I have worn it freediving several times already, and I love being able to skip the sunscreen - just pull on the suit and jump in the water.