SlipIns
Men's DiveSkins - Whale Shark - Zippered (Please order off the Women's DiveSkin-UNISEX SIZING)
SlipIns Whale Shark
 

DiveSkins are the world's finest sun protective swimwear with 60+ UPF and are made in America. Become one with the ocean's gentle giants. This UV sun protection is second to none. This skin is a tight fitting, full body lycra suit designed to make it much easier to slip in and out of a wetsuit-wet or dry. SlipIns DiveSkins have foot stirrups, thumb holes, and front zippers that make it easy to wear.

 

SlipIns DiveSkins have lots of stretch for comfort and they dry quickly.

 

Our DiveSkins protect against all stinging ocean critters as well.

 

This one piece body suit protects against Fire Coral and other possible abrasions. DiveSkins are perfect for scuba diving, snorkeling, surfing, paddling, free diving, swimming, boating, or however you enjoy your time in the water.    GUYS-these are unisex sizing so check out the height/weight parameters.  Also that means that any of our fabulous patterns can fit you guys!  Tiger Shark maybe!!
Customer Reviews
02/28/2021
Puakoturtle

United States
I recommend this product
No more sunscreen in the ocean
I bought these skins for my man after having bought and used three for myself. He loves it. Neurally buoyant (very important for free diving), easy to put on and take off, and offer sun and other exposure protection. It took us a little while to figure out that we can simply choose any patterns on the women's dive skins page, use the size guide, and order the size that fits the man. I wouldn't order a size up. The skins are very stretchy and fit better than a glove. The products are great. Now I need to persuade the rest of the family to wear them so that all of us can stop putting sunscreen in the ocean.
07/30/2020
Greg

United States
I recommend this product
excellent sun protection for melanoma survivor
My wife ordered SlipIns for me for sun protection. I spend much time on the water kitesurfing. In 2004 I survived melanoma stage 4. I have been a windsurfer and a kiter all my life since my 20s. I love ocean and it is my passion. Since the first time I used SlipIns I felt the quality and excellent protection. In the past I would use rash guards but SlipIns are much more comfortable and provide higher UV protection. They are form fitting and provide me with some compression. I like that they stay in place and don't ride up. I wear mine with shorts due to seat harness when kitesurfing. Thank you for making excellent product that was much needed on the market. As a skin cancer survivor I know how important Sun protection is and I always tell my daughter and wife to stay covered up as UV in Caribbean and Florida is extreme even in winter months.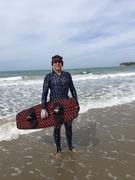 Color me whale shark!
Stoked to be the first on the block to sing the praises of SlipIns! I snorkel daily in the refreshing waters of South Maui. Don't need warmth, but being light-skinned, I absolutely require UV protection. Until now, I've squeaked by with rash guards, which are draggy and heavy, plus Lycra leggings and hood. Nothing is remotely as comfortable as SlipIns' new dive skin, which fits like the proverbial glove, has an all-important front zipper for ease getting in and out, and has a smooth, satiny finish that's the next best thing to skinny-dipping. Unlike other full dive skins I've tried, this one has give in all the right places and doesn't instantly threaten to come apart at the seams. Have I mentioned all the conversations I start in my whale-shark avatar? Sometimes I think the folks on the beach and in the water love this skin even more than I do. Can't wait to try the chain mail. One wish, though! Please, SlipIns, could you add a model with hood attached? If your hair's a little sparse on top (or a lot sparse), and if your neck takes a burn, that's a feature you'd opt for.